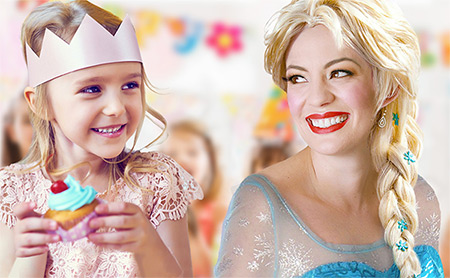 Hello and welcome! We're so glad you stopped by our website to learn more about Lexi's Little Princesses!
Lexi's Little Princesses has two locations: Southern California and Austin, TX. We are proud to provide premiere children's party entertainment to clients throughout Southern California as well as Austin's surrounding areas, specializing in birthday parties, children's carnivals, festivals, and other special events! With over 6 years of experience in the industry, we can safely say that we absolutely love what we do. We couldn't be happier than when we are bringing a smile to a child's face and creating a one-of-a-kind memory to last a lifetime!
Our primary focus is in Princess themed party entertainment, and here's what you'll get if you book a party with us:

Princess Entrance and Coronation
Your Princess (or Princesses, if you book more than one) will arrive at your child's party in full costume and makeup with a beautiful high quality wig. Our goal is for your Princess to look like she stepped off the page of a fairytale (or out of the screen of your television!). She can either make a grand entrance from across a park or pool, or come right to your front door- the choice is yours!
Once she's entered, your princess will present the birthday girl with a complimentary princess crown that is included in every package. Next, she'll run a "princess coronation" where the birthday girl is pronounced the "honorary birthday princess of the day!"
Story-time
Princesses are great story-tellers, and ours are no exception. Once our princess(es) gathers your child and guests around, she loves to share all her fairytale adventures, including some new ones that you may have never heard before! Children are invited to participate and interact as much as possible with our Princess(es) — we want the experience to be fun, collaborative, and interactive— all of what leads to a lasting memory for your child and her friends!
Games / Magic
Princesses also love to play games and perform magic. We offer an array of various magic tricks for your child's entertainment. Your princess will also lead the group in interactive play time!
Princess Songs
Does your child have a favorite song (or two) from your Princess' movie? Our princesses are all trained vocalists with exceptional skill, and always take time for a sing-along, encouraging the kids to join in!
Princess Dancing
Our Princess leads the group in dancing, teaching your guests just how to dance like a Princess would!
Face Painting
Our Princesses love to paint, and can create crowns, flowers, and all sorts of other beautiful things. After everyone has their fill of singing, dancing, story time, games, and magic, our Princess(es) will move on to sharing these talents as well!
Singing Happy Birthday
What little girl wouldn't want a Princess to help lead their guests in 'Happy Birthday'? After everyone's got their faces painted, our Princess will round up your guests for the big cake cutting ceremony!
Photo time
Many of our clients tell us that their children have framed photos with their princess hanging in their room long after the party is over. A special end to our time together is when guests (and especially the guest of honor!) have photo opportunities with the Princess(es).
Experienced Performers
Our Princesses are selected from only the most experienced performers with skills in not only acting, but singing and dancing as well! Be confident that our performers will deliver the best show you could hope to find anywhere!
Ready to book?
We're waiting to hear from you! We offer 1hour, 1.5 hour & 2 hour options (please contact us for rates).  Fill out the form below to get started, and someone will be in touch very soon!